This section provides information on how you will be assessed and evaluated in the CCLO-3410 course. 
During your placement informal and formal feedback will be provided by the health authority practice education coordinator as well as individual licensing officer preceptors who you will be working with in the field.
Informal Assessment
You will maintain a daily log that documents the activities you participated in or observed and your self-reflection/comments on each activity. The licensing officer preceptor whom you are accompanying for an activity will also provide their feedback to encourage your professional growth and development. An activity summary form will be completed at the end of each week and shared with your health authority practice education coordinator, along with copies of the daily activity logs. It is important that you are open to this feedback and ask questions to help you understand how you can develop your skills and what areas of knowledge you need to spend time learning.
IMPORTANT
Look for opportunities to develop these skills in the field and spend time in the evening or on the weekend reading and reviewing material to develop any knowledge. This is how you will get the most out of the learning experience and make a good impression.
It is highly recommended that you and your preceptor(s) engage in a regular process of informal evaluation throughout the duration of the practice education course. Establishing a regular weekly meeting time will allow for developmental feedback as you progresses through your placement. Informal assessment helps you to become aware of areas that may require attention prior to being formally evaluated. It also helps you to know what is going well. Informal assessments can take a variety of different forms, including conversations while travelling between facilities or debriefing after a facility visit.
Blackboard Journals
Self-reflection is an important part of personal and professional growth. Throughout the practice education course, you will complete weekly journal entries that reflect on the activities you have completed, as well as your areas of strength and opportunities for growth. These journal entries will be confidential between you and the JIBC faculty member overseeing your practice education placement; they will not be shared with the health authority practice education coordinator in order to encourage honest self-reflection and professional growth. All required journal entries must be finished in order to successfully complete the course.
Required entries:
Summary entry at the end of every week (total = 6). For those completing CCLO-3410 in an alternate format, one summary entry is required after every 5 days in the field (total = 6). The summary entry should contain your reflections about what you learned that week, what went well, and what presented challenges. Each week will have a specific focus area for reflection as indicated in Blackboard.
One final entry reflecting on the practice education experience overall. What personal and professional growth occurred over the course of the practice education experience? What needs more attention as you prepare to enter the licensing profession.
Optional entries:
Reflections about the learning journey above and beyond the required weekly summaries.
Evaluations
Formal evaluations will be conducted at the mid-point and end of the practice education course. Using the provided evaluation instrument you will complete a self-assessment and then forward the document electronically to your health authority practice education coordinator for feedback and evaluation. You and the coordinator will set aside a dedicated time to discuss the evaluation.
The Evaluation Instrument
The evaluation instrument will use a rating scale that is based on the performance level of a newly hired licensing officer at the end of their first six months in the role. It is important to note that you should not expect scores in any part of the evaluation above a seven (7). During the first weeks in a placement while you are still in the early stages of learning it is likely you will be at a level of three (3) or four (4) if you are doing well and participating fully. A score of 5 means that you are performing at an entry-level standard but would still require regular supervision, this is a good grade on the rating scale, especially at the mid-point evaluation when you have only been in practice education for three weeks. Even licensing officers in their first year of employment would likely not be at a level between eight (8) and ten (10) in all areas. If you receive a rating of one (1) or two (2) in any area it should be cause for concern as it indicates that you are at risk of not being successful in your placement. Follow up will be required with your practice education coordinator and may include a meeting with a JIBC staff member to look at how your learning goals can be best supported.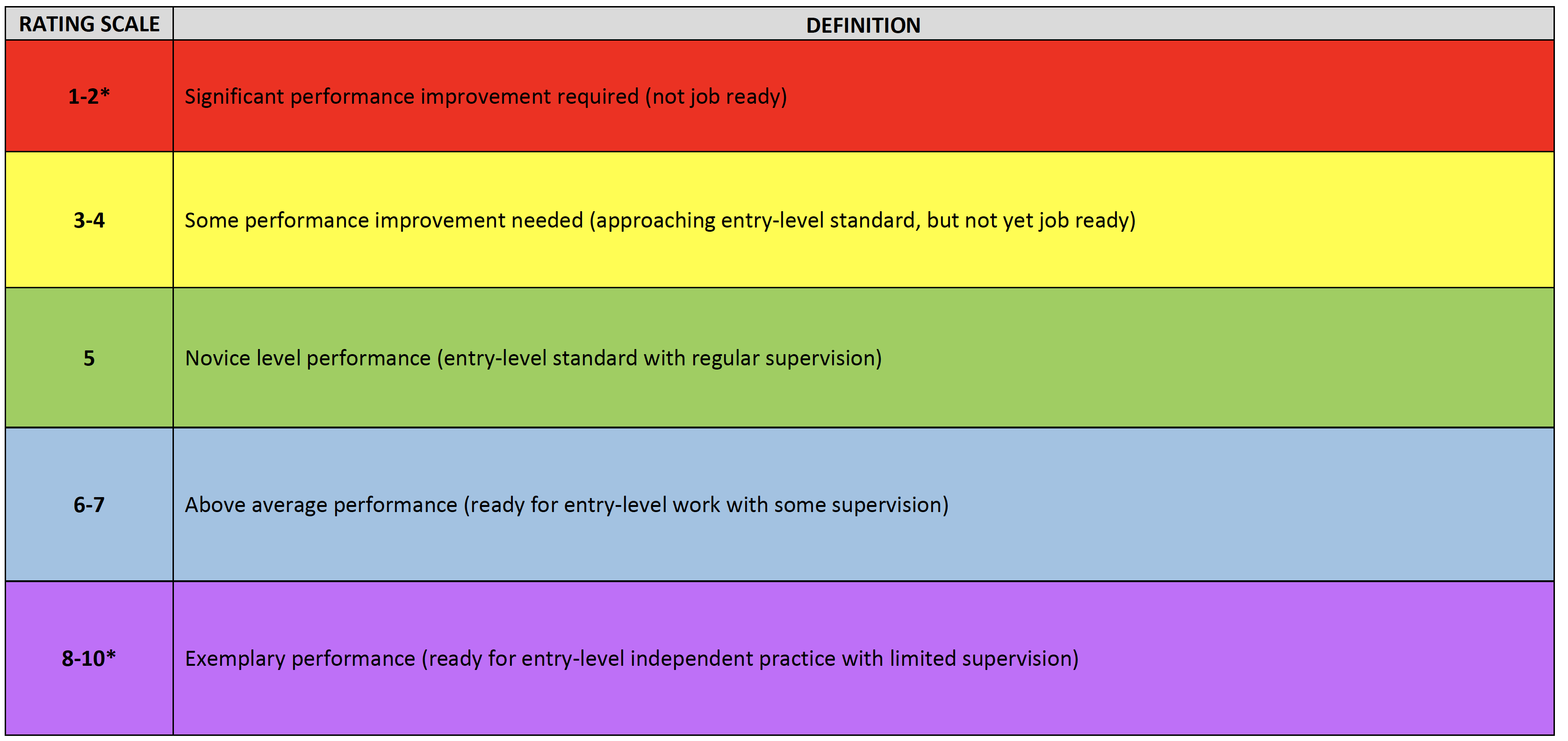 IMPORTANT
Most of your scores on the mid-point and final assessment should fall between a score of 3 and 7, and a score of 5 in an area means you are doing really well in that area. Please take this into account when completing your self-assessment and receiving feedback from the practice education coordinator.
The evaluations have two parts:
A self-rating with comments and supporting examples completed by you, and
A coordinator rating with feedback completed by the health authority practice education coordinator.
Your practice education coordinator will advise you when they would like the mid-point and final self-rating submitted. This will include comments and supporting examples which clearly identify your areas of strength and opportunities for improvement.
The health authority practice education coordinator will complete the coordinator rating part of the mid-point evaluation and offer feedback. They will consult with any secondary preceptors who have worked with you and incorporate their feedback into the formal evaluation. Once they have this complete they will meet with you to discuss the evaluation and answer any questions you might have.
Mid-Point Evaluation
The mid-point evaluation focuses on your participation and engagement in your practice education setting, as well as general professional competencies that are required of all licensing officers. The mid-point evaluation is intended to give you and JIBC an honest assessment of your general professional competencies, participation and engagement with your practice education setting, as well as an indication of the your likelihood of success in the course.
During the mid-point evaluation, if you are determined to be 'at risk', with a score of one (1) or two (2) your learning goals will be thoroughly reviewed and a plan will be put in place to increase your level of competency in the areas of greatest concern. An overall coordinator rating of 'at risk' will trigger a conference call between JIBC, health authority practice education coordinator, and you to discuss the reasons for it and a plan for the remainder of the practice education course and may halt your academic progression and lead to early withdrawal from the practice education course.
Final Evaluation
The final evaluation will include an assessment of the same areas as the mid-point, plus an evaluation of your professional knowledge and ability to apply it to specific licensing officer activities. You will be evaluated on a number of different tasks, such as incident reports, inspections, etc. as identified on the evaluation form.
In order to successfully complete the course, your overall final assessment coordinator rating must be at the level of five (5) or higher. A overall final rating lower than five (5) on the final evaluation means that you have not yet demonstrated the minimum competencies necessary for entry-level practice as a licensing officer and will need to repeat the course.
Evaluation Results
After completing all sections on the mid-point and final evaluation, an overall evaluation rating will be assigned using the evaluation rubric. The intention of the overall evaluation rating is to provide you and JIBC with an indication of your readiness to assume the responsibilities of a novice licensing officer. The results of the evaluation will be reviewed in a meeting between the student and the health authority practice education coordinator.
Both mid-point and final evaluations will be submitted electronically to the JIBC faculty member overseeing the practice education course and the program manager by the health authority practice education coordinator.
IMPORTANT
In order to be successful in the course you must receive an overall rating of 5 or higher on your final evaluation and you must submit all of your completed learning journals.